Home - Where you will find out more about mystery novels, find new authors, and learn about some really great older ones.


Mystery Authors of the Golden Age of Mystery Fiction
The Golden Age of mystery novels is taken here to be the period between 1913 and the start of World War II. On this page, you will find information about the great and well known writers of this period. There are also lesser know writers of this period who deserved a reading, and you will find information about them at Lesser Lights of the Golden Age. Many of their novels are being published again and should not be overlooked. If you are a great fan of British mysteries of this period, take a look at the British Library Crime Classics which are listed at Good Reads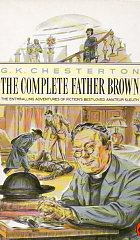 You may enjoy watching dramatizations of these authors' works. If so, go to the Mystery Films page where you will find a great deal to view.
These authors are listed in the order of their birth date. If you wish to accept the challenge to read their books in the order in which they were published then take a look at the page Chronology of Mystery Firsts.
G. K. Chesterton - (1874 - 1936) The creator of Father Brown. Chesterton was an artist, poet, journalist, critic, essayist, novelist, and short story writer. Chesterton was born in London, and wrote for various newspapers and magazine. Chesterton's other detective stories included The Club of Queer Trades and The Man Who Knew Too Much. Biographical information and a bibliography may be found at The American Chesterton Society.


E. C. Bentley - (1875 - 1956) Author of Trent's Last Case (1913) which is possibly the first modern detective novel. Bentley meant the book to be a parody of the exploits of detectives like Holmes. Instead, he introduced a more human detective who was capable of making mistakes. He also added genuine characterization and a little humor to the novel. Bentley was born in London and educated at St. Paul's School where he met G.K. Chesterton who became his closest friend. Bentley attended Oxford, and then studied law. He was admitted to the bar in London in 1902. Bentley changed his career from law to journalism, and was a journalist for 30 years. More information on Bentley may be found at The Golden Age of Detection.. The e-book version of Trent's Last Case is available at Project Gutenberg


Edgar Wallace - (1875 - 1932) Wallace was an incredibly prolific and popular writer of thrillers. He was the illegitimate son of two actors. He was adopted by George Freeman at the age of nine days. His formal education ended when he was 12 and he worked at odd jobs until he joined the West Kent Regiment at age 18. He was sent to South Africa with the army. He purchased his discharge and worked as a war correspondant there. He returned to England and published his first thriller Four Just Men in 1905. His output after this time was mind-boggling. He wrote at least 173 books and 17 plays. His books were popular and he made a lot of money and spent a lot of money and he died in debt. His writing was slapdash and formulaic, and his work is now mostly forgotten. For more information see the article Edgar Wallace, the Man Who Wrote Too Much? by Michael Mallory in Mystery Scene Magazine. A number of his books are available at Many Books. Many movies were based on his writings and a list of these is at the Internet Movie Database.


Mary Roberts Rinehart (1876-1958) - a prolific American writer of mystery stories. She is also credited with originating the "Had I But Known" form of mystery novels in which the heroine is always getting into dangerous situations. Ms. Rinehart was born in Pittsburgh, PA and attended nursing school. Her husband's investments in the stock market did poorly and she turned to writing to aid with the family finances. Her first mystery novel, The Circular Staircase was published in 1908. Her stories and novels were extremely successful and enabled her to live in luxury.

H. C. Bailey (1878 - 1961), Creator of Reggie Fortune who was a popular sleuth in England in the period between WWI and WWII. Bailey was born in London, and educated at University College, Oxford. He worked for the London Daily Telegraph from 1901 to 1946 as a drama critic and war correspondent. Biographical information.


Elizabeth Daly (1878 - 1967) - Ms. Daly is the creator of Henry Gamadge, a highly literate and sophisticated sleuth whose adventures are described in 16 novels. Ms. Daly was an American author who did not publish her first novel until she was 62. Biographical information.


Patricia Wentworth (1878-1961) - Ms. Wentworth is best known for her novels which feature spinster sleuth Maud Silver. Miss Silver is a retired governess, professional private detective, and is rarely seen without her knitting. Ms. Wentworth was born in Mussoorie, India, and was educated in London. She married George Oliver Turnbull in 1920, and lived in Surrey, England. Her first Miss Silver novel, Grey Mask was published in 1928. Biographical information.


Freeman Wills Crofts (1879 - 1957). Crofts was born in Dublin, and spent his early years as a construction engineer for British Railways. During his recuperation from a severe illness, he wrote the novel The Cask in 1920. This book was such a success that he turned to writing mystery novels as a career. His series detective was Inspector French who is noted for his step-by-step use of police routine methods in the solution of crimes. More biographical information may be found at Freeman Wills Crofts


Sax Rohmer (1883- 1959) - the pseudonym of Arthur Henry Sarsfield Ward, the creator of Chinese master criminal Dr. Fu Manchu. Rohmer was born in Birmingham, England. He read widely, but was not very interested in school. He also had a great deal of difficulty keeping a job which required regular hours, and so determined to become a writer. He was very interested in the Occult, and, as a newspaper reporter, spent a great deal of time in Limehouse, London's Chinatown where he conceived the idea for his criminal. The first Fu Manchu novel The Mystery of Fu Manchu was written in 1913. It was followed by 12 others, and several movies were based on Rohmer's books. More information and a bibliography may be found at Wikipedia


Earl Derr Biggers (1884 - 1933) Biggers created Charlie Chan, one of the most popular of detectives. Although there were only 6 novels, there were at least 30 films and a television series based upon them. Biggers was born in Warren, Ohio, and earned a BA from Harvard in 1907. He worked for a short time as theatre critic, and then turned to writing plays, novels, and short stories. The first Charlie Chan novel The House Without a Key was published in 1925. Biggers wrote 5 more Chan novels before he died of a heart attack in 1935.
Vincent Starrett (1886 - 1974) Though Starrett was born in Toronto, Canada, he lived most of his life in the United States. He was a reporter for several Chicago newspapers, and wrote the Books Alive column for the Chicago Tribune for many years. He wrote many essays, biographical works, and critical studies of authors. He is best know for The Private Life of Sherlock Holmes which was published in 1933. He wrote several detective novels and was a founder of the Baker Street Irregulars. He was named a Grand Master of Mystery by the Mystery Writers of America in 1958. There is a great deal of information about Starrett at Studies in Starett


Rex Stout (1886-1975). Stout was born in Noblesville, Indiana. As a child, he was a prolific reader and won the state spelling championship at age 13. Stout worked at a variety of jobs before he began writing seriously. His first Nero Wolfe novel Fer-de-Lance was published in 1934, and Stout finished his last Wolfe book at the age of 89. He received the Grand Master of Mystery Award in 1959. Fans of Wolfe will find more information and a bibliography at Wikipedia


Raymond Chandler (1888-1959) - Chandler wrote in the tough guy tradition which was similar to the style of Dashiell Hammett. Chandler's first novel The Big Sleep appeared in 1939. It was followed by other novels such Farewell My Lovely and The Lady in the Lake, and short stories which were published in Black Mask. Wikipedia has a bibliography of Chandler writings. Movies and TV shows based on Chandler's books may be found at the Internet Movie Database.


Monsignor Ronald A. Knox (1888 - 1957) - Translator of the Bible, and writer of detective stories. Knox was educated at Balliol, and became an Anglican priest. In 1917, he converted to Roman Catholicism, became a priest, and prelate to the Pope. His translation of the New Testament was published in 1944, and his translation of the Old Testament was published in 1950. He wrote several detective novels such as The Viaduct Murders and The Footsteps at the Lock. He was one of the founding members of the Detection Club. More information may be found at the Wikipedia web site.


Arthur Upfield (1888 - 1964). Born in Gosport, England. After he failed his advancement tests as a professional surveyor three times, his father shipped him off to Australia at the age of nineteen. He worked as a cowhand and a cook and when WWI started, he joined the army and fought at Gallipoli. His first successful novel The House of Cain was published in 1926. His series detective is Inspector Napoleon Bonaparte, a half-cast Aborigine Australian who is a member of the Queensland Police Department. A biography of Upfield may be found at Australian Dictionary of Biography..


S. S. Van Dine (1888 - 1939). Pseudonym of Willard Huntington Wright. Van Dine was born in Charlottesville, VA. He worked as a literary and art critic for newspapers and magazines. He suffered from poor health, had a severe breakdown in 1923 and was confined to bed for two years. During these years, he read detective stories and amassed a large collection. He then decided that he could write a better story than he was reading. His first Philo Vance book, The Benson Murder Case, was published in 1926. His books were exceptionally popular, and Van Dine became quite wealthy.
Agatha Christie (1890-1976). Ms. Christie is one of the best known mystery writers in the world. She was born in Devon, England, and educated at home. She was married to Colonel Archibald Christie just after the start of World War I. She worked in the dispensary of a hospital during the war which contributed to her knowledge of poisons. She wrote her first book, The Mysterious Affair at Styles during time off from work. The book was rejected by several publishers before being accepted. Ms. Christie received only $125 for the book, but the sale encouraged her to write more. She was divorced from Christie in 1928. In 1930 she met and married the archaeologist Max Mallowan. She was a prolific writer, and several of her books are classics of the mystery genre. In 1955, she received the Grand Master of Mystery Award from the Mystery Writers of America. She was the first recipient of this award.
Anthony Berkeley Cox (1893 - 1970). Anthony Berkeley Cox was born in Hertfordshire, England. He served in the army in WW1 and he was educated for a career in law. He began his writing career writing sketches for Punch and then turned to mystery novels. Berkeley wrote under three names. As A. B. Cox he was a journalist. As Anthony Berkeley and Francis Iles, he was the author of classic mystery novels and critic of mystery novels. In 1925, he published The Layton Court Mystery which he had written for his own amusement and which introduced his detective Roger Sheringham. He was a founding member of the Detection Club. Some of his mysteries are available as ebooks on Amazon. An essay on Anthony Berkeley by Martin Edwards in Mystery Scene Magazine


Dorothy L. Sayers (1893-1957) - Sayers had learned Latin by the age of 7. She graduated from Somerville College, Oxford with top honors in medieval literature. Since she needed money to live on, she became a copywriter in an advertising agency. The first Lord Peter Wimsey novel appeared in 1923. She ceased writing detective novels in 1947 because she said that she had written these stories only to make money, and she would now do what she enjoyed. She spent the rest of her life translating Dante, and lecturing on religion and philosophy.
Dashiell Hammett (1894-1961) Hammett was the first successful author of novels of the tough private detective. His book The Red Harvest was published in 1929. This was followed by The Maltese Falcon, The Thin Man, and other novels and short stories. Hammett stopped writing novels in the mid-1930's. He was active in the Communist party, was a subject of the McCarthy investigations, and went to prison for a short time for failing to reveal what he knew about other party members.

Ngaio Marsh (1895-1982) Ngaio Marsh was born in Christchurch, New Zealand, and attended college there. She worked as a writer, actress, producer and director for amateur theatricals until 1928, when she went to England, where she founded an interior decorating shop. She wrote her first mystery in 1932. She divided her time between England and New Zealand working with various theatrical groups. Her series detective is police detective Roderick Alleyn who is quite urbane and sophisticated.
Josephine Bell (1897 - 1987) is the pseudonym for Doris Collier Ball. She was born in Manchester. She entered the Goldophin School in Salisbury where she met Dorothy L. Sayers. In 1916, Doris applied to study medicine in Newnham College, University of Cambridge. She did her clinical training at University College Hospital. Here she met Norman Dyer Ball and they were married in 1923. They had four children. In 1927, Norman and Doris went into general practice together in Greenwich. Norman died in an automobile accident in 1936. Doris moved to Guildford and started a general practice. She also published her first novel Murder in Hospital in 1937. She would continue to write one or two books a year for the next 50 years. She was a founding member of the Crime Writers Association. She retired from her medical practice in 1954. A bibliography of her books may be found at Fantastic Fiction


Anthony Gilbert (1899-1973) Pseudonym of Lucy Beatrice Malleson. She was born in London. Her mother planned for her to become a school teacher, but it was Ms. Malleson's dream to become a novelist. Prolific author of mystery novels featuring lawyer-detective Arthur G. Crook. Her biography and bibliography may be found at the Golden Age of Detection web site. Anthony Gilbert's books are very hard to find.


Gladys Mitchell (1901 - 1983) - Ms. Mitchell was born in Cowley, England. She worked for 40 years as a teacher in elementary schools. After her retirement, she turned to writing and wrote a novel a year. She is best know as the author of the Dame Beatrice Lestrange Bradley mysteries. Ms. Bradley is a rather eccentric psychiatric consultant working for the British Home Office. Her biography may be found at The Stone House. Her books are being reissued by Rue Morgue Press.


Georgette Heyer (1902 - 1974) - This celebrated writer of Regency romances also wrote 12 novels of mystery fiction. Her series detectives were Superintendent Hannasyde and Sergeant Hemingway. Her novels are English country house mysteries, and are well plotted, and witty comedies of manners. Heyer attended various day schools and did not attend university. She published her first romance novel at age 19. She married George Ronald Rugier in 1925. Her husband had a variety of jobs, and the family income was often dependent of Heyer's publications. Her first mystery Death in the Stocks was published in 1935. More information at the Georgette Heyer Fan Site.


Georges Simenon (1903-1989) Author of the Inspector Maigret novels. One of the most prolific mystery novelists (200 novels), Simenon was born in Liege, Belgium. Due to his father's early death, Simenon quit school at sixteen to earn a living. Simenon moved to Paris in 1923. The first Maigret novel, The Strange Case of Peter the Lett was published 1929. After producing 18 Maigret novels at the rate of one a month, Simenon grew tired of the character and turned to writing psychological novels, and other works. He returned to writing Maigret books in the 1940's. He lived in France during the war, then moved to the United States, and finally settled in Switzerland. As he grew older, his literary output slowed to only four novels a year. Maigret is popular all over the world and has been adapted for television and films.

Margery Allingham (1904-1968). Creator of the aristocratic detective, Albert Campion. Allingham was born in London and grew up in Essex. Her first mystery novel The Crime at Black Dudley was published in 1929. The first Campion novels were fast moving adventure novels, but later the characterization improved and the books contained more social commentary. Ms. Allingham ceased writing during WWII and devoted herself to war efforts. The Tiger in the Smoke published in 1952 is considered by some to be her best work. More information may be found at the Margery Allingham Society web site.


Nicholas Blake (1904 - 1972). Nicholas Blake is the pen name of Cecil Day Lewis, British poet who was the poet laureate of England from 1968 - 1972. Day Lewis was born in Ballintubber, Ireland. He received an MA from Wadham College of Oxford University. He taught at various schools from 1927 - 1935 but ran into trouble with school authorities over his leftist political views. He wrote his first detective novel A Question of Proof in 1935 because he needed money. His series detective is the erudite Nigel Strangeways. Blake wrote 20 detective novels. He was a member of the Communist party although his interest in Communism seemed to decline after the Spanish Civil War. He was a professor of poetry at Oxford from 1951 - 1956, and professor of Poetry at Harvard from 1964 - 65. He is the father of actor Daniel Day Lewis. More information and a bibliography may be found at Wikipedia.


Stuart Palmer (1905 -1968) Palmer was born in Baraboo, Wisconsin. He was educated at The Chicago Art Institute and the University of Wisconsin. He held a variety of jobs such as iceman, sailor, taxi driver, and ghost writer. In 1931, his novel The Penguin Pool Murder which featured spinster sleuth Hildegard Withers was published. In 1932, Palmer began his career as a scriptwriter for mystery films about Hildegard Withers, and the Falcon, the Lone Wolf, and Bulldog Drummond. Palmer served in the Army during World War II as a training-film instructor and as a liason officer for the Army and Hollywood's war effort. An essay on Stuart Palmer by Steven Saylor may be found at Saylor's web site.


Ellery Queen - Created by Frederic Dannay (1905 - 1982) and Manfred B. Lee (1905 - 1971). Dannay and Lee were Brooklyn-born cousins. Dannay was born Daniel Nathan. He went to Boys High School in New York, and never attended College. Lee was born Manford Lepofsky, and he graduated from New York University. Their first collaborative novel The Roman Hat Mystery was written in 1928 and submitted to a contest for mystery novels sponsored by McClure's magazine. The contest rules required that the book be submitted with a pseudonym and Lee and Dannay chose Ellery Queen because it seemed memorable. McClure's went broke, another company took over the contest, and the Ellery Queen novel did not win the prize. The Frederick S. Stokes company did publish the book and started the remarkable career of Ellery Queen. In addition to the novels, they wrote for films in Hollywood, wrote the scripts for the Ellery Queen Radio series, and started Ellery Queen's Mystery Magazine in 1941. They received the Grand Master of Mystery Award in 1961, The Ellery Queen web site has a wealth of information about Queen.


Michael Innes (J.I.M. Stewart) (1906 - 1994) Innes was born near Edinburgh, and was an Oxford graduate. He was a professor in Australia, Ireland, and then at Oxford. Under the name Stewart, he published books of literary history and biographies. His first mystery, Death at the President's Lodging, was published in 1936 and featured his series sleuth John Appleby.

Michael Innes - A bibliography of his books from Fantastic Fiction.
Michael Innes - Biography and bibliography from the Golden Age of Detection wiki.



John Dickson Carr (1906-1977). The master of the locked room mystery. Carr was born in Uniontown, PA., attended the Hill School, and then Haverford College. He wrote his first detective novel, It Walks by Night in 1930. Carr decided that England was a much better place to write detective fiction than the US and moved there. Carr wrote a number of novels under his own name and also under the name of Carter Dickson. As Carr, he wrote a series featuring Dr. Gideon Fell, and another with Henri Bencolin; and under the Dickson name, his sleuth was Henry Merrivale. Carr also wrote the official biography of Arthur Conan Doyle with the assistance of Doyle's son, Adrian.For more information see the John Dickson Carr Biography - From the Golden Age of Detection.


Leslie Charteris (1907 - 1993) The author of the series about the suave, sophisticated Simon Templer, the Saint. Charteris was born in Singapore. His mother was English, his father Chinese. Charteris was mainly educated at home though he did have one year at Cambridge. He decided that the study of crime was more interesting than a regular job, and he published his first Saint novel, Meet the Tiger in 1929. The Saint is a kind of Robin Hood, and the novels, movies and television shows based on his exploits have been quite popular. His biography is available online. His filmography may be found at The Internet Movie Database


Phobe Atwood Taylor (1909 - 1976). Ms. Taylor was born in Boston, MA. She graduated from Barnard College. Her mysteries featured sleuth Asey Mayo and take place in communities on Cape Cod. Mayo is a former sailor who works as a handyman-chauffeur. Ms. Taylor under the name Alice Tilton also wrote a series about Leonidas Witherall who is a New England prep school headmaster and amateur detective. Biographical information./>


Anthony Boucher (1911 - 1968) Pseudonym of William Anthony Parker White. Boucher was an American critic, detective and science fiction writer, editor and anthologist. For more biographical information, go to the Anthony Boucher page.
The Detection Club
In 1928 or 1930, a group of outstanding British mystery writers formed The Detection Club, and established the rules for writing mystery novels.
If you are interested in the The Detection Club, you must read the book The Golden Age of Murder by Martin Edward which has been published by HarperCollins in 2015. It is a fascinating account of the formation of the club and of the lives of the members such as Agatha Christie, Dorothy Sayers, Anthony Berkeley and many more.
---
This site is maintained by Linda Bertland, Philadelphia, PA. Please address any comments, additions, or corrections to info@sldirectory.com