Home - Where you will find out more about mystery novels, find new authors, and learn about some really great older ones.
Back to Authors of the Golden Age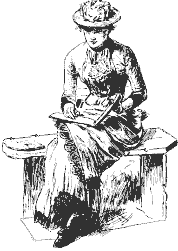 Elizabeth Daly
Elizabeth Daly wrote a series of sixteen novels about the investigations of Henry Gamadge, a wealthy New York gentleman who is interested in the mysteries associated with old books and manuscripts. His wealth allowed Gamadge the leisure to pursue his interests in literature and crime. Gamadge seems to be more the English gentleman than a New Yorker.

Ms. Daly was born on October 15, 1878 in New York City. She was the daughter of Joseph Francis Daly who was a justice on the Supreme Court of New York County, and she was the niece of Augustin Daly who was a playwright and producer. Ms. Daly attended Miss Baldwin's School in Bryn Mawr, PA. She received a bachelor of arts degree from Bryn Mawr College in 1901, and a master of arts degree from Columbia University in 1902. She was a tutor in French and English at Bryn Mawr College until 1906. During this period, she produced amateur plays Ms. Daly, like Henry Gamadge, seems to have had the leisure time to produce amateur theatricals, to read, and to write.

Ms. Daly had a lifelong interest in puzzles and was very fond of detective fiction and especially of Wilkie Collins. She began writing at age 16, and published prose and light verse in magazines. In the 1930's, she attempted to write detective fiction, but was not successful until 1940, when she was sixty two, that Unexpected Night was published. She wrote 15 more Gamadge novels and a non-series novel The Street Has Changed. In 1960, Ms. Daly received an Edgar award from the Mystery Writers of America for the body of her work. It is also said that she was Agatha Christie's favorite American mystery writer.

Ms. Daly died in St. Francis Hospital on Long Island on September 2, 1967.

Her books are currently being reissued by Felony and Mayhem Press, and are available in Kindle editions from Amazon.

More information may be found at the Golden Age of Detection web site.



Bibliography
Unexpected Night, 1940
Deadly Nightshade, 1940
Murders in Volume two, 1941
The House Without the Door, 1942
Evidence of Things Seen, 1943
Nothing Can Rescue Me, 1943
Arrow Pointing Nowhere, 1944, (Also know as Murder Listens In)
The Book of the Dead, 1944
Any Shape or Form, 1945
Somewhere in the House, 1946
The Wrong Way Down, 1946, (Also known as Shroud for a Lady)
Night Walk, 1947
The Book of the Lion, 1948
And Dangerous to Know, 1949
Death and Letters, 1950
The Book of the Crime, 1951
---
This site is maintained by Linda Bertland, Philadelphia, PA. Please address any comments, additions, or corrections to info@sldirectory.com