Home - Where you will find out more about mystery novels, find new authors, and learn about some really great older ones.
Back to Authors of the Golden Age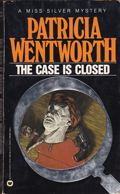 Patricia Wentworth
Patricia Wentworth was born Dora Amy Elles in Mussoorie, India in 1878. She was the daughter of a British army officer. She received a high school education at Blackheath High School in London where she and her two brothers were sent to live with her grandmother. After her graduation, she returned to India. She published her first work in the Civil and Military Gazette there. She married Colonel George Dillon in 1906. He died shortly after and left her with a young daughter and three stepsons. She and her children returned to England. She began writing and published six historical fiction novels between 1910 and 1915.
In 1920, she married Lieutenant George Oliver Turnbull and moved to Surrey. He encouraged her writing and acted as a scribe for the novels which she dictated to him. Wentworth wrote her first mystery novel The Astonishing Adventure of Jane Smith in 1923. Her first Maud Silver book, Grey Mask was written in 1928. Nine years and fifteen mystery novels later, she returned to Maud Silver, who became her most popular character. Ms. Wentworth wrote over seventy novels. She died on January 28, 1961.
Maud Silver is perhaps Ms. Wentworth's best known character, and there are 32 Miss Silver novels. Maud Silver, a spinster, retired from her position as a governess and opened a private detective agency. She is quite efficient, and seems to know a great number of people, especially those in the police. She starts a new notebook for each case, and is always knitting garments for her nieces and nephews. Her clients are usually from the upper classes. Wentworth's novels are definitely cozy, and are frequently set in English villages. Miss Silver was so popular in the US during the 1940's that Lippincott of Philadelphia became her primary publisher and released the Miss Silver novels in the US before their release in England.
Patricia Wentworth's other characters include Ernest Lamb, a chief investigator who sometimes works with Miss Silver, and Randal March, the chief constable of the county where many of Miss Silver's cases occur.
A bibliography of Ms. Wentworth's books may be found at Fantastic Fiction or at Patricia Wentworth.
---
This site is maintained by Linda Bertland, Philadelphia, PA. Please address any comments, additions, or corrections to info@sldirectory.com