Home - Where you will find out more about mystery novels, find new authors, and learn about some really great older ones.
Back to Authors of the Golden Age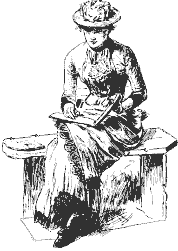 Anthony Boucher
Anthony Boucher is the pen name of William Parker White. He was born in Oakland, CA on August 21, 1911. His father, James Taylor White, who was a doctor, died before his son was one year old. His mother was Mary Ellen Parker who was also a doctor. His grandfather, William Owen Parker, was a substitute for his father. The name Boucher came from his maternal grandmother, Annie Boucher Hine.
Boucher suffered from asthma as a child. He was frequently bedridden and became a voracious reader of anything he could find. He published a short story in Weird Tales when he was sixteen, but decided, at that time, not to continue with science fiction because it was so poorly written. His asthma would plague him all of his life. He would need to take time off from his other activities to recuperate from serious bouts. Unfortunately, he also took up smoking in later life which only made his condition worse.
As Boucher got older, his health improved. He attended three years of military school at Hitchcock Academy in San Rafael, CA. He graduated from Pasadena High School in 1928. After this, he went to Pasadena Junior College, and received a BA in Spanish from the University of Southern California. By the time he got a MA from the University of California in Berkeley in 1934, he knew eight languages.
Boucher decided that he wanted to be a playwrite and also wanted a job in the movie industry. He moved Los Angeles and became a theater reviewer for the The United Progressive News and sometimes attended five plays a week. He wrote over 50 one-act plays which were hardly ever produced. He wrote short stories which didn't sell. He did sell one poem to Weird Tales in 1935. He had reached a financial low point when his first mystery novel The Cases of the Seven of Calvary was published in 1937 by Simon and Schuster.. The new income enabled him to marry Phyllis Prince in 1938. They had been planning this for several years, but Boucher's lack of income was always an obstacle.
Boucher had sold six novels, but financial considerations led him to decide to switch to short story writing because short stories could be produced much more rapidly than novels. He joined the Mañana literary society whose members included some of the brightest science fiction writers of the day.. Boucher's novel Rocket to the Morgue has a slightly fictionalized picture of this group which included Robert Heinlein, L. Ron Hubbard, John Campbell, and Jack Williamson.
World War II started, and Boucher had 4F status because of his asthma. He found a job teaching at the University of California at Berkeley. When the mystery reviewer for the San Francisco Chronicle left for the war, Boucher took his place and received his first Edgar Award for these reviews. In 1945, Boucher replaced Leslie Charteris as a writer for the radio show The New Adventures of Sherlock Holmes. He also became a writer of the Ellery Queen Mystery Show and for the The Casebook of Gregory Hines.When the war ended, so did Boucher's financial success. The radio shows that he was writing either ended or choose cheaper writers. The book reviewer for the Chronicle returned and claimed his old job.
In 1949, Boucher and his friend, J. Francis McComas, began The Magazine of Fantasy and Science Fiction. The magazine did well, and Boucher remained as an editor until 1958. He also became the mystery novel reviewer for The New York Times and held this position until his death. He and Comas also edited True Crime Detective in 1952 and 1953. Boucher also edited The Best Detective Stories of the Year from 1962 to 1967. All during this very busy time, Boucher suffered from a variety of health problems and from the medical bills for his treatments.
Boucher had many other interests outside of his editing and writing careers. He loved opera and had collected over 9000 records. He had a Saturday evening radio show Golden Voices during which he played opera records and commented on them. He was active in the Catholic Church and was a lay reader in his parish. He was also an avid poker player.
Always prolific, Boucher wrote science fiction and fantasy short stories, and mystery short stories which were published in Ellery Queen's Mystery Magazine. He received Edgar Awards for editing in 1945, 1949, and 1952.
Anthony Boucher died of lung cancer in 1958
The mystery convention Bouchercom and the Anthony award are so named in honor of Boucher. The first one was held in Santa Monica, CA in May of 1970. The first Anthony awards were given in 1986. A list of conventions and Anthony winners may be found at the Bouchercom web site.
For Further Information about Boucher:
The Anthony Boucher Chronicles: Reviews and Commentary 1942 - 1947, Francis M. Nevins (editor), Ramble House, Lexington, Ky, 2001
Marks, Jeffrey, Anthony Boucher, A Biobibliography McFarland and Co. Jefferson, NC, 2008. This book has information about Boucher's life and writings and an extensive bibliography of his writing.
On Anthony Boucher - This is an essay by David Langford.
Anthony Boucher - a bibliography of many of Boucher's works at the Fantastic Fiction web site.
---
This site is maintained by Linda Bertland, Philadelphia, PA. Please address any comments, additions, or corrections to info@sldirectory.com