Home - Where you will find out more about mystery novels, find new authors, and learn about some really great older ones.
Private Detectives in American Mystery Novels 1945 - 1990
Menu: The Private Detective | The Police, Forensic Investigator and Crime Novel | The Amateur Detective
This page includes mystery writers who came to prominance between the end of World War II and 1990. Earlier writers may be found in Early Mystery Novels and Novels of the Golden Age. For books published after 1990, see American Mysteries Since 1990
Following the beginning of Prohibition, crime and accompanying dishonesty in police departments and in city hall increased. This development provided the inspiration for the fictional private eye. Two-fisted, hard-drinking, honest to a certain extent, the detective fought against crime and corruption.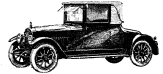 Authors of Private Detective Stories
Black Mask Magazine - In 1920, the first issue of Black Mask Magazine appeared. It and other pulp fiction magazines published the stories of many of the private detectives.


Carroll John Daly - (1889 - 1958) His story "The False Burton Coombs" which was published in Black Mask in December, 1922 is credited with being the first hard-boiled story. The story "Three Gun Terry" now seems to be recognized as the first hard-boiled private detective story. This story was published in the May 15, 1923 issue of Black Mask Magazine. This is several months before the publication of the first Continental Op story by Dashiell Hammett ("Arson Plus", October 1, 1923). For more information about Daly, see Wikipedia. "The False Burton Coombs" and other stories by Daly may obtained as ebooks from Amazon.


Dashiell Hammett (1894-1961) Hammett was the first successful author of novels of the tough private detective. His book The Red Harvest was published in 1929. This was followed by The Maltese Falcon, The Thin Man, and other novels and short stories. Hammett stopped writing novels in the mid-1930's. He was active in the Communist party, was a subject of the McCarthy investigations, and went to prison for a short time for failing to reveal what he knew about other party members.

Baynard H. Kendrick (1894 - 1977) - Kendrick's private detective Duncan Maclain is blind. This character was developed from Kendrick's experience working with blind WWI veterans, and showed that the handicap of blindness could be overcome. Kendrick was born in Philadelphia, Pa, and graduated from Episcopal Academy in 1912. He was the first American to join the Canadian Army. He served in France and was decorated by both the British and Canadian governments. He published his first novel, Blood on Lake Louise in 1934. He lived in many parts of the US and worked at a wide variety of jobs. He was an organizer of The Blind Veterans Association and served on its board. The movie Bright Victory is based on his novel Lights Out. The TV series Longstreet was adapted from the Duncan Maclain character. Kendrick was one of the founders of the Mystery Writers of American, and was named a Grand Master in 1967.


Cleve F. Adams (1885 - 1949) - Adams was born in Chicago. In 1919, he moved to California and worked at a variety of jobs such as soda jerk, interior decorator, copper miner, detective, and film director. He began writing stories for pulp magazines such as Black Mask and Detective Fiction Weekly. He published 50 short stories between 1936 and 1942. He was one of the few writers who made the successful transition from pulp fiction to writing detective novels. His first novels Sabotage and And Sudden Death were published in 1940, and he published 13 more novels after this. His series detectives such as Rex McBruce, William Rye, and John J. Shannon, were hard fighting and very tough characters. Adams was a founding member of the Fictioneers, a group of pulp writers, in Los Angeles. A bibliography of Adams' books may be found at Fantastic Fiction.


Raymond Chandler (1870-1959) - Chandler continued the tough guy tradition which Hammett had started. Chandler's first novel The Big Sleep appeared in 1939. It was followed by other novels such Farewell My Lovely and The Lady in the Lake, and short stories which were published in Black Mask. For a biography, and bibliography, go to Wikipedia Movies and TV based on Chandler's books may be found at the Internet Movie Data Base.


Erle Stanley Gardner (1889-1970) Gardner originally practised law. He, however, hoped that if he became an author that he would have both financial success and more free time. He wrote many short stories which were published in pulp magazines before 1932 In 1933, he published The Case of the Velvet Claw which was the first Perry Mason novel. This book was the first in a long series of extremely popular books about the crime fighting lawyer.

James M. Cain (1892 - 1977). Cain was born in Annapolis, MD. He was a reporter for the The Baltimore American and New York World. He published short stories in pulp magazines and, in 1934, his first and most famous novel The Postman Always Rings Twice was published. Cain also worked as a screenwriter in Hollywood for 17 years. Cain never did write a true detective novel. His books are almost always from the criminal's point of view. Several were made in successful movies such as Double Indemnity and Mildred Pierce. Cain was named a Grand Master of Mystery in 1970. His biography and bibliography may be found at the Wikipedia web site.. His filmography may be found at the Internet Movie Database.. There is also an interesting essay on Cain by Hilton Als in the New Yorker


George Harmon Coxe (1901 - 1984) - Coxe was born in Olean, New York. He attended both Purdue University and Cornell University and never did obtain a degree. He worked at a variety of odd jobs until he moved west and became a journalist for the Santa Monica Outlook and later with the Los Angeles Express. He moved back east and worked for several newspapers. In 1932, he became a full time writer, and wrote stories for pulp magazines. He would write 63 novels during his lifetime. He was named a Grand Master of Mystery in 1964 by The Mystery Writers of America. He wrote several series and some stand alone novels. Two of his series dealt with the exploits of Jack Flashgun Casey, a photographer for the Boston Globe and of Kent Murdock, a photographer for the Boston Courier-Herald, A bibliography of his books may be found at the Fantastic Fiction web site. His books have been reissued in ebook form by Mysterious Press.. For more information about Coxe, take a look at The Golden Age of Detection.


Brett Halliday (1904 - 1977) - Brett Halliday is the pen name of Davis Dresser. He is best known for the Mike Shayne series of detective novels and for the Mike Shayne Mystery Magazine. Dresser was born in Chicago. He ran away from home at age fourteen and enlisted in the army. He was discharged two years later when his real age was discovered. He worked at odd jobs and received a certificate in civil engineering. He could not find a job during the depression so he turned to writing stories for pulp magazines. His first Mike Shayne novel Dividend on Death was published in 1939. This book had been rejected 22 times before it was published by Henry Holt. The Mike Shayne character was a break with the tradition of the hard-drinking, hard-fighting private detective. Shayne was more likely to use his brain to solve a case. For more information, see the article at Wikipedia. web site.


James Holding (1907 - 1997) James Holding was born in Ben Avon, Pennsylvania, and attended Yale University. He worked as a copywriter at Batte, Barton, Durstine & Osborne in Pittsburgh and rose to be vice President. James Holding was a prolific writer of short stories. He wrote short stories under the name of Ellery Queen, after the real Queen authors could no longer write, and wrote for the Ellery Queen Mystery Magazine and other mystery magaines. He created the "Library Fuzz" series of short stories about detective Hal Johnson who tracks down overdue library books and solves crimes along the way. This is a series which will definitely appeal to librarians and library fans. These stories are available from Amazon in the Library Fuzz Megapack. For more information about Holding, see Good Reads


Ross Macdonald - (1915 - 1983) Pseudonym of Kenneth Millar. Millar was born in California, and had a doctorate in English literature, and, at one time, was a university professor. He was married to Margaret Millar who was also a successful mystery novelist. He wrote under the name MacDonald to avoid confusion with her books. Macdonald is best known for his books featuring Lew Archer. The first of these, The Moving Target was published in 1949. More information about Margaret Millar (1915 - 1994) may be found here


Stanley Ellin (1916 - 1986) - Ellin was born in Brooklyn, New York. He attended Brooklyn College and graduated at the height of the great depression. He worked at a variety of odd jobs while he unsuccessfully tried to sell his fiction. He served in the army at the end of World War II. After the war, he became more successful in his writing career. In 1948, he published his first novel Dreadful Summit. During his lifetime, Ellin published 14 novels and four collections of short stories. Ellin won three Edgar awards for his writing, and was named a Grand Master by the Mystery Writers of America in 1981. More biographical information may be found at the Golden Age of Detection web site. A bibliography of his works may be found at the Fantastic Fiction web site.


John D. MacDonald - (1916-1986) MacDonald was born in Sharon, PA. He studied business administration before entering the army in 1940. MacDonald began writing short stories for pulp magazines when he was still in the army. His first novel The Brass Cupcake was published in 1950. He is best known for the Travis McGee series. He was named a Grand Master of Mystery in 1972. For more information, see his homepage


Mickey Spillane (1918 - 2006) Spillane was born and grew up in a tough section of Brooklyn, NY. He started writing for slick magazines before turning to pulp fiction. He also wrote comic books and was the originator of Captain Marvel and Captain America. He was in the Air Force during WWII. After the war, he worked for Barnum and Bailey Circus as a trampoline performer. Spillane is best known for his brutal tough guy hero Mike Hammer. For more information about Mike Hammer films see The Internet Movie Database


Robert B. Parker (1932 - 2010). Parker was 40 before he turned to writing. His first book The Godwulf Manuscript featuring his tough private eye Spenser (no first name) was published in 1973. Parker has a web site.


Donald Westlake (1933 - 2008) Westlake was a prolific author of crime fiction and wrote over 90 books. He published under several pseudonyms of which the best known is probably Richard Stark. He virtually invented the comic caper novel with his series about John Dortmunder. Westlake won 3 Edgar awards, and was named a Grand Master in 1993. Several films were based on his books. A biography and bibliography may be found at Wikipedia.


Marcia Muller (1944 - ) Muller was born in Detroit, MI. She worked for several magazine before writing mystery novels. Muller published Edwin of the Iron Shoes in 1977 which was the first in a series of Sharon McCone books. McCone was the first hard-boiled female detective. Muller was named a Grand Master of Mystery by the Mystery Writers of America in 2005. Muller is married to Bill Pronzini, the author of the "nameless detective" series. See Sharon McCone, P.I. for an interview with Muller. You will find a list of Muller's books at the Cozy Mystery List


Sara Paretsky (1947 - ) Author of the series featuring the Chicago private investigator V. I. Warshawski. The first book of the series Indemnity Only was published in 1982. Ms. Paretsky was name a Grand Master of Mystery by the Mystery Writers of America in 2011. Paretsky's web site


Sue Grafton (1940 - 2017) Ms. Grafton grew up in Louisville, Ky. She worked as a scriptwriter in Hollywood prior to taking up the writing of mystery novels. Her series features Kinsey Milhone, P.I. who lives in Santa Theresa, CA. Her first novel A is for Alibi was published in 1982. She was named a Grandmaster of Mystery by the Mystery Writers of America in 2009. Grafton's web site. It should be noted that Sue Grafton's father was also a mystery author. More information about him may be found at The Life and Work of C. W. Grafton: Crime Novelist, Lawyer, and Father of a Mystery Icon. - this is an article by Wayne Hicks at Crime Reads.


---
This site is maintained by Linda Bertland, Philadelphia, PA. Please address any comments, additions, or corrections to info@sldirectory.com