Go Back: Virtual Middle School Library Home / Web Sites for Students Menu / Language Arts
Language and Grammar Sites
Merriam-Webster Dictionary Online - This is a dictionary, a Spanish-Englsh dictionary, and a thesaurus There is also a word of the day and word games.
Merriam-Webster Visual Dictionary Online - A dictionary of images. This is a great help if you need to know what something like a mango or a tectonic plate looks like.
NetLingo - An online dictionary of internet terms. There are also lists of smileys and text messaging abbreviations.
Emojipedia- Emojis and their meanings.😀
Quotations - Look here if you need to search for quotations.
A Beastly Garden of Wordy Delights - Look here if you need to know what a group of animals is called such as a pride of lions, or a quiver of cobras. There are also names for animal infants, animal adjectives, and snake jokes.
Spark Notes - Online study guides for literary classics. Like Cliff Notes, but free.
The Blue Book of Grammar and Punctuation - What to do about pronouns, commas, and other writing problems.
Quiz Tree - There are quizzes here for ESL students and for those who are studying a foreign language, and for students preparing for the SAT's and GRE's.
Wacky Web Tales - Fill in the blanks to create a silly story.
Free Rice - Define words and send free rice to the hungry people of the world.
Authors and Books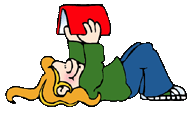 Sites for Readers To Find New Books and Share What They Read
How to Read a Book - There is more to it than you may think. This is information form WikiHow.

Info About Books and Authors

Mythology and Folktales

Greek Mythology - Lots of information about the Greek gods here.
American Folklore - This site has all kinds of folk tales - tall tales, tales from various regions of America, historical folk tales, and more.
Norse Mythology - This site has a lot of information about Norse gods and goddesses, and about the Vikings.

Poetry

---

Go Back: Virtual Middle School Library Home / Web Sites for Students Menu /Help with Writing Reports

How to write the paper including doing the dreaded bibliography





This site is maintained by Linda Bertland, school librarian (retired). Please address any comments, additions, or corrections to info@sldirectory.com.