Home - Where you will find out more about mystery novels, find new authors, and learn about some really great older ones.
Back to Authors of the Golden Age
Phoebe Atwood Taylor
Phoebe Atwood Taylor was born in Boston, Massachusetts on May 18, 1909. Her parents were natives of Cape Cod and descendents of Mayflower pilgrims. Taylor attended Barnard College and graduated in 1930. Following graduation she returned to Boston to write. She married a Boston surgeon who was also named Taylor and they lived in the Boston suburbs of Newton Highlands and Weston. They also had a summer home in Wellfleet on Cape Cod.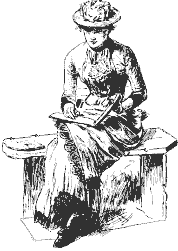 Taylor published her first novel The Cape Cod Mystery in 1931. It sold 5000 copies which was quite an impressive number for that day. Taylor wrote thirty novels in the next 20 years. She said that she wrote her novels between twelve midnight and three in the morning after "housekeeping all day". She would wait and start a book about three weeks before the publisher's deadline. She published her last novel in 1951. She died of a heart attack in Boston on January 9, 1976.
Taylor had two series characters - Asey Mayo and Leonidas Witherall. Asey Mayo, a Cape Cod native, was an amateur sleuth and an all-around handyman. Mayo rose from a handyman job to the chairman of Porter Motors Company. Taylor wrote the series about Witherall under the pen name of Alice Tilton. Leonidas Witherall is an amateur sleuth, a teacher, and an author of detective novels. Witherall shares many of Taylor's characteristics as a writer including waiting to the last minute to complete a manuscript.
Taylor's novels show her great knowledge and fondness for Cape Cod. She is not interested in the tourists who visit the area, but writes of the season when the tourists have left. Her Cape Cod natives are suspicious of the tourists and other outsiders. She does not mention the depression in her novels but she does show the effect of it on some of the characters who are in financial difficulties. Taylor's works also a include a good degree of humor especially in the rather ludicrous escapades of Witherall.
A bibliography of her books may be found at The Crime and Mystery Fiction Site.
---
This site is maintained by Linda Bertland, Philadelphia, PA. Please address any comments, additions, or corrections to info@sldirectory.com