Home - Where you will find out more about mystery novels, find new authors, and learn about some really great older ones.
Back to British Mystery Novel after World War II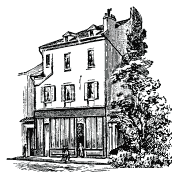 E.X. Ferrars
E. X. Ferrars had a very long career as a writer and had many fans. Her work is in the solid tradition of the British mystery, and cannot be considered to be innovative. Her characters are upper or middle class, the plotting is intricate, and the story aims at unraveling a puzzle. She was excellent analyst of character. There is very little violence in her novels.
Ferrars had one series character, Toby Dyke. He is an upper class university graduate who is employed as a journalist. He first appeared in the novel Give the Corpse a Bad Name which was published in 1940. He would appear in 7 other novels. Ferrars also wrote a large number of non-series novels.
E. X. Ferrars is the pseudonym of Morna Doris MacTaggert Brown. She was born in Rangoon, Burma on Sept. 6, 1907. Her father was Scottish and her mother was Irish-German. She attended Bedales School in Hampshire from 1918 to 1924. She received a diploma in journalism from University College in London which she attended from 1925 to 1928. She wrote several novel in her own name before her marriage in 1940 to Professor Robert Brown, a Scottish botanist. In the same year, she began a career as a writer of detective fiction which lasted for over 45 years. She chose her mother's maiden name of Ferrars as her pseudonym.
Ferrars was active in organizations for crime writers. She was a founding member of the Crime Writers Association in 1953, and received that groups Red Herring award in that year. She was also a member of the Detection Club and the Mystery Writers of America.
A bibliography of her books may be found at Stop, You're Killing Me
---
This site is maintained by Linda Bertland, Philadelphia, PA. Please address any comments, additions, or corrections to info@sldirectory.com